Main Page
From GameProject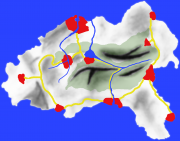 This Wiki exists to help me (Fred Houweling) to describe and develop my game world.
The world is called Lennlat.
Important
If you wish to provide real creative input I'm happy for you to proceed on the these contribution conditions. If you would like to help me with any aspect of this project, Please create yourself an account, confirm your email address and jump right in and edit pages or create new relevant pages. Due to people trying to increase their pagerank through posting garbage, spam etc, adding links to external websites is only possible by trusted users.
New Wiki Users please add a section to the Wiki Users page to describe what you can do and how you would like to contribute, users that add value will periodically be added to a group to prevent automatic account deletion.
Important: Do NOT spam or post unrelated content, you will get banned and I will delete your content.
Areas Under Development
Project Update
This project is moving forwards.
It now (or soon will) have a:
1. Project Management website.
2. This GameProject wiki to allow the game details formulate in an organic form.
3. XNA Game Studio development initiated. Code has now been migrated into Subversion.
4. Artwork and Documentation (editable web based subsection TBA).
5. A Subversion repository. http://svn.houweing.com.au/
6. I am looking for a good defect tracker. Prefer on that integrates with Subversion.
7. Project pilot page containing more dynamic YouTube style video captures and daily updated subversion statistics. http://www.houweling.com.au/r/game
A height map of 10x10 metre resolution of the land is complete and will be integrated into a LOD based XNA project in the near future.
A camera class has been developed and is nearing completion.
Background
Project History I'm considering designing a game in the style of ultima 7. Below is a picture of a World I have created, I am yet to name everything, Country name,
Cities/Towns/Villages, Rivers, Mountains, Seas. It will be set in a fantasy world, Including magic users/fighters/thieves/etc...
I have not decided on a point of conflict.
Character development is yet to take place.
Much artwork will be required, Also a fair amount of architecture development (3D Models) will need to take place.
Multi player, Real time game play are both design goals.